We couldn't of asked for a better day! With temps approaching the 100s just days before the 12th Annual Auburn Triathlon, race day temperatures at the swim were 57 with daytime highs maybe upper 70s. Water temperature was 71! A gorgeous weekend and a perfect day for a triathlon.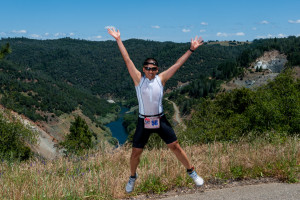 With 407 participants registered for one of the 4 events of the Auburn Triathlon, 344 participated race day. The waters were calm at Rattlesnake Bar till the horn went off at 7:00. Every 5 minutes a wave of swimmers would hit the water joining the lifeguards and safety personnel already out on the water on jet skis, paddleboards and kayaks. Dan Ingals of National Marine safety set the course for the events and provided water safety as did the Folsom State Park lifeguards. Our swimmers were well watched, guarded and protected.
First to exit the water was Rob Laurie, of Incline Village with a swim time for the International of 20:11.6. Linda Hora was first female out of the water with a time of 22:37.
In the World's Toughest Half the fastest swimmers were Justin Smith of Davis with a time of 25:35 and Amanda Mattioli with a time of 29:10.
Both Justin and Amanda each won the ZOOT Z Force 1.0 Wetsuit provided by our Swim Course Sponsor Rocklin Endurance Sports.
For the Mini Tri first out of the water was Brynda Larsen, age 51, with a lickety split time of 8:15. Ian Smith, 19, was first for the men in a time of 8:35.
In the NEW World's Toughest Aquabike, the fastest swimmer was Wendy Buchanan of Tahoe City, swimming the 1.2 mile course in 34:17 followed by Mike Scott with a time of 34:23.
Then onto the bikes with a climb right out of the transition. All the major intersections were posted with either CHP, or Auburn PD as well as there were many volunteers out there at various places along the course watching out for the cyclists' safety.
The fastest cyclist of the day for the Mini was Michael Cordova riding up from Rattlesnake Bar in a time of 26:52. Kelly Hammerstone rode the uphill course in 31:03.
For the International the fastest bike time for the men was from last years previous winner Chris Cloyd of Truckee with a time of 1:11:08. Reno Area Triathlon Club's Dana Ginsburg came in with the fastest bike time for the International Women in 1:25:36.
In the World's Toughest Half , Justin Smith also took top honors for the fastest bike time, 2:43:41 with Susannah Breen coming into T2 with a bike time of 3:06:03.
Both Justin and Susannah each won $100 gift certificates to Bicycle Emporium, Auburn Triathlon's Bike Course Sponsor.
For the Aquabike Ann Erickson clocked the fastest bike time for both men and women, 3:09:07 that was fast enough for her to take the Overall win for the World's Toughest Aquabike, again for both men and women, way to go Ann! In the men's division Jerry Wilcox biked the tough bike course in 3:45:50.
Onto the run
Fastest Mini male runner was Taylor Hocket in 15:41 and 19 yr old Hannah Halverson of Truckee ran the canal trail in 19:48.
Fastest International runners: Shane Arters, Team Zooters, ran the course in an awesome time of 44:33. Linda Hora once again stole the show for the fastest run for women with a time of 48:46.
Matt Balzer and Susannah Breen were the fastest runners on the new/old World's Toughest Half run course, each winning a pair of Salomon Shoes presented by Salomon and Alpenglow Sports of Tahoe City whom partnered to sponsor the WTH Auburn Triathlon's Run Course. Matt Balzer owner of Reno Running Company, a Partner of Auburn Triathlon, donated great prizes to the raffle. Matt's time was 1:31:46 and Susannah clocked a 1:40:07.
Overall male winners for the Mini Tri were Taylor Hockett, 31, in a time of 57:53 followed by Michael Cordova, 30,in a time of 58:13 and coming in third to round up the podium was Dawson Smith, 15, in a time of 1:00:52.
For the Women in the Mini Tri we had Kelly Hammerstone, 35, taking top honors with a time of 1:05:40. 16 year old Hannah Halverson of the Wild Cherries Team from Truckee was second in a time of 1:06:32. Angela Raimondi, 25, was 3rd, 1:08:06.
First for the men in the International was Shane Arters,49, of Team Zooters, second was last years winner Chris Cloyd, 29, followed in third by Matt Harder,41. Their times respectively: 2:22:09; 2:24:12; 2:29:12.
First for the women in the International was Dana Ginsburg, 49, with a time of 2:46:33; Joanne Glichrist, 44, was very close behind with a time 2:46:48. Then Linda Hora, 50, not too much further back was 3rd in a time of 2:47:25.
The Aquabike was won by Ann Erickson, 53, 4:04:47 followed by Wendy Buchanan,43,in 4:12:47. In the Men, Jerry Wilcox, 53, was first with a swim/bike time of 4:28:36. Second was Gregg McKenzie, 44, 4:39:18.
The Overall Winners of the World's Toughest Half went to Justin Smith, 32, in a time of 4:45:47 and Susannah Breen, 33, 5:34:50. Both Justin and Susannah won ZIPP's Vuka Alumina Aero Cockpits.
Following close behind Susannah was Joanna Pomykala, 38, with a time of 5:35:24 and our own Robyn Soares, 40, crossing the finish line in 5:48:16.
Chasing down Justin was Matt Balzer, 33, closing the gap in on the run, crossing behind Justin in a time of 4:52:30. Keith Jamtaas, 35, was third fastest in the World's Toughest Half in a time of 4:55:53.
Congratulations to all the winners, and congratulations to all who finished any of the Auburn Triathlon events. We do hope you all had a great, challenging enjoyable day and we hope you all will come back and try to PR the course. Challenge your friends to a great race.
We would love feed back so please do not hesitate to email us with ideas, suggestions, recommendations. We did send out a survey if for some reason you did not receive it or would like us to resend it to you contact us.
See you next year, please spread the word, lets work together to grow this race and make it one of the best and toughest races in the West.