Joe Pace, co-race director with Colleen, was born in the bay area and moved to Tahoe in the late '80s due to his passion for ultra-distance endurance endeavors as well as enjoyment of being active in the mountains all 4 seasons.
Upon moving to Tahoe, Joe became a General Building Contractor. Despite the arduous work of being a "hands on" contractor Joe has always been able to fit in time to pursue his athletic goals.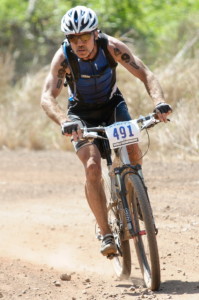 His resume includes 14 years of ultra-distance runs and ironman distance triathlons including but not limited to Ironman St George, Ironman Canada, Ironman Lake Tahoe and two times at World's XTERRA Triathlon Hawaii. He also dabbles in Ultra Mt Bike races/rides such as the Park City Point to Point in Utah that covers 75 miles with 12,000 ft of climbing.
Joe not only loves triathlon and running but he does love to backcountry or Nordic ski. He will get up at 5:00 a.m. to go for a quick ski out our door before having to be at work in the morning by 7 or 7:30.
Joe, along with Colleen have been members of the Tahoe Nordic Search and Rescue now for 35 years. He was also President of the Tahoe Nordic Search and Rescue for several years. He is still very active searching going out in all conditions and all times of the day and night to help search and or rescue lost skiers, boarders, and or hikers.
Joe and Colleen have taken their passion towards triathlon and sport a step further by becoming the race directors of the Auburn Triathlon.
Go here for a great read on Joe and Colleen's epic endurance adventure last summer 2015.  Stay tuned for a 2016 adventure.